Are you looking for new ways to help fight depression? Do you want to try something new to improve your mood and wellbeing? You might want to consider The Right Spinal Clinic's IV Therapy!
In today's blog post, we will feature The Right Spinal Clinic's special IV drip formula for depression, called the Candi Cocktail. What are the key compounds in this formula? How does it help with depression? How does IV therapy work? Read on!
Key Facts About Depression in Florida
Depression is one of the leading health problems in America, especially in today's pandemic outbreak. According to the National Alliance on Mental Illness (NAMI), over 2,899,000 adults in Florida have a mental health condition--that's more than six times the population of Miami!
Several reports also revealed that the Covid-19 has had a negative impact on thousands of people in Florida. Check out these statistics below:
Nearly 41 percent of Adults in Florida reported symptoms of depression and anxiety in February 2021. And about 25 percent were unable to get the right treatment, counseling or therapy.
About 650,000 adults experience serious mental health problems.
Approximately 180,000 Floridians aged 12-17 also experience depression.
Nearly 800,000 adults in Florida did not receive needed mental health care. And nearly half of them were because of cost.
These are some of the important facts you should know about depression. Now, let's talk about IV therapy and other treatments for depression.
What Is IV Therapy?
IV or intravenous therapy is a treatment method that infuses medications, vitamins, supplements, or drip solutions directly into your veins. It is one of the fastest and most effective ways to administer fluid or medication to your body. More than 80 percent of patients in hospitals receive IV therapy.
The IV Therapy Breakthrough
In the past, medical professionals used IV therapy primarily in the hospital setting to deliver fluids or medications. But thanks to technological advancements and the unending efforts of our health care providers, experts have developed other innovative applications for IV or infusion therapy. Today, almost everyone can benefit from IV therapy treatments outside of the hospital setting.
Infusion therapy is now being used to help people who want to boost their immune systems and treat numerous health problems. Benefits of IV therapy in Tampa to your health and wellness include the following:
Support your weight loss program
Help treat certain nutrient deficiencies
Detoxify your body
Increase circulation
Promote cardiovascular health
Help ease anxiety and promote relaxation
Help manage chronic pain conditions
How does IV therapy work?
IV or infusion therapy is a simple and safe procedure. Medical practitioners usually use a small tube also known as a catheter and a saline-based electrolyte solution that contains your preferred or required vitamins or drip solution.
IV or infusion therapy works quickly and efficiently since the IV can deliver this drip solution or fluid directly into your bloodstream.
The Candi Cocktail Composition
If you are looking for stress relief, you should definitely try The Right Spinal Clinic's Candi Cocktail. This specialized IV drip solution contains essential vitamins and minerals that can help manage your stress levels and promote relaxation, as well. This mood-boosting formula includes:
Vita Complex (B Complex)
Ascorbic Acid
Amino Blend
Glutathione
It can also help detoxify your body, making you feel calm and rejuvenated!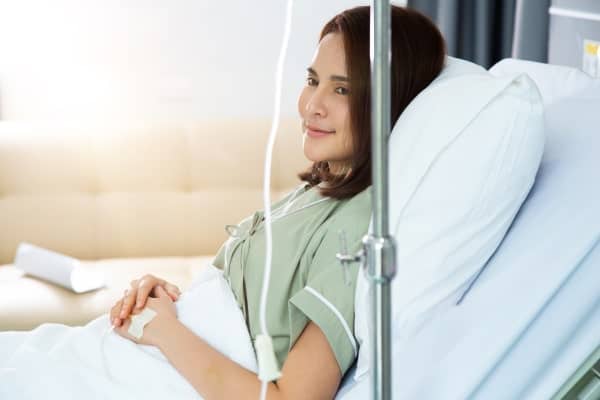 Benefits Of IV Therapy To Relieve Stress
Now, let's talk about how IV therapy can help relieve stress and depression. The biggest advantage of IV therapy or infusion therapy over other treatments is time and efficiency. Most antidepressant medications take several days or weeks to experience results. While IV therapy is not a replacement for any medications that your doctor may prescribe, IV therapy can provide an immediate boost.
IV therapy helps calm your feelings of anxiety
IV therapy is an excellent treatment option for anxiety and stress. It can also help people suffering from addiction, migraines, and muscle tension. There are also IV drip solutions today that are designed to help people calm their feelings of anxiety.
One good example is the Candi Cocktail. This particular IV drip is formulated to help alleviate anxiety symptoms and enhance your overall physical health and wellness, as well. The Candi Cocktail can provide your brain with the nutrients it needs to produce to improve your mood, making it easier for you to overcome your symptoms.
IV therapy promotes a good night's sleep
Do you have trouble sleeping at night? Well, you are not alone! According to reports, over 70 million Americans are suffering from chronic sleep disorders like insomnia and sleep apnea.
Keep in mind that lack of sleep can take a toll on your health and wellness. This can lead to various health problems, such as high blood pressure, diabetes, heart attack, heart failure, stroke. Quality sleep is also important to your mental health.
IV therapy can help improve sleep quality. In fact, many people today are turning to IV therapy to help them manage their insomnia. Here's how IV therapy can help with insomnia:
Improved circadian rhythm regulation
Improved rapid eye movement (REM) sleep
Reduced stress and anxiety
Increased sleep duration
Correct sleeping patterns
Better sleep means a healthier body and mind!
IV therapy relaxes your muscles
IV or infusion therapy can also help relax your muscles, which is ideal for patients who are suffering from chronic pain due to accidents, spinal cord injuries, and other health conditions. IV therapy has shown great results in patients suffering from complex regional pain syndromes, phantom limb pain, and neuropathic pain.
IV therapy supports immune function
It is no secret that IV therapy can boost immunity. This is actually one of the main reasons why many people get IV or infusion therapy. Boosting your immune function can also help treat depression.
IV therapy prevents migraines and headaches
People with migraines or chronic headaches are more likely to have anxiety and depression. The Candi Cocktail is one of the most effective solutions for migraine relief. In fact, The Right Spinal Clinic has IV therapies specifically formulated to alleviate chronic headaches. Allow our experts to help you choose the best infusion therapy for your specific needs or preferences.
Book your first IV Therapy today!
Are you or your loved ones looking for the best IV drip for depression, anxiety, or chronic pain? The Right Spinal Clinic is here to help! Call us now at (813) 582 7000 to schedule an appointment. We also accept walk-ins with no waiting time!