Different Types of Physical Therapy
Like other branches of medicine, physical therapy is a broad field with various specializations. In today's blog post, you will learn more about the different types of physical therapy. This should help you understand the best physical therapy program for your goals and condition. Read on. 
The Right Spinal Clinic: Physical Therapist in Tampa 
The Right Spinal Clinic is a reputable beauty, health and wellness center, located in the heart of Tampa, Florida. Physical therapy is one of our core services and our team has helped countless patients recover from injuries and other medical conditions.
Thanks to technological advancements, our physical therapy programs have become more effective. Our comprehensive physical therapy services are designed to alleviate pain, increase mobility, and improve quality of life. We specialize in different types of physical therapy treatments, including auto accidents, slip and falls and worker's compensation.
Here at The Right Spinal Clinic, your long-term recovery is our priority. Check out some of our featured physical therapy treatments: 
Cold Laser Therapy/ Low-Level Laser Therapy (LLLT)
Cold laser therapy is ideal for both acute and chronic conditions. This method uses low levels of light to promote tissue healing and reduce inflammation. Cold laser therapy can treat minor injuries and sprains, inflammation, body aches and discomfort. It also promotes wound healing and skin rejuvenation.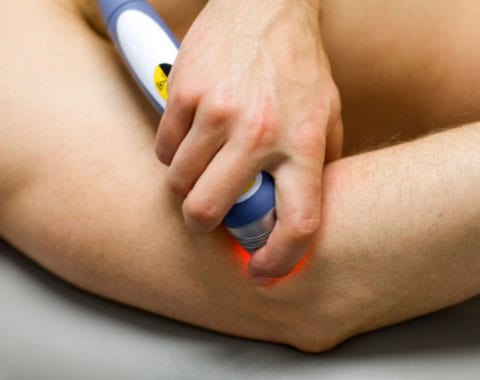 Electrical Stimulation/ Electrotherapy 
Many physical therapists in Tampa use this method for pain relief and muscle repair. This treatment works by sending electrical pulses to the muscles and nerves and through the entire body. Electrotherapy contracts and helps the muscles to relax by improving blood circulation. This ongoing process can also improve muscle strength.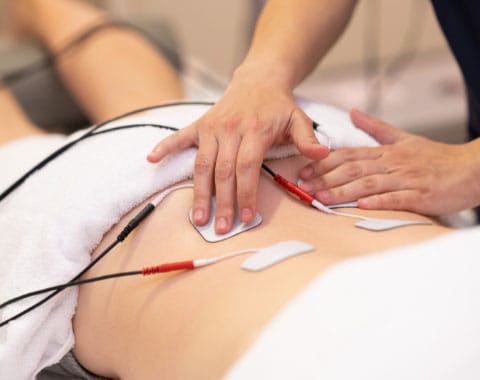 Ultrasound therapy is another popular physical therapy treatment. This technique can help reduce pain, relax tissue tension, increase blood flow, and break down scar tissues. Many physical therapists today use this technique to treat swelling or inflammation. 
This method is effective at treating joint pain, sprains, and muscle spasms. Many physical therapists today also use mechanical traction for treating sciatica, pinched nerves, herniated discs and other spine health-related problems. 
What Do Physical Therapists Do?
Physical therapists are healthcare professionals who focus on evaluating and treating human body disorders. The main objective of a physical therapist in Tampa is to help manage illnesses or certain injuries to musculoskeletal, neurological, cardiopulmonary, and integumentary systems. 
Generally, a physical therapist receives referrals from doctors and other professionals. At The Right Spinal Clinic, our PTs usually start by conducting a thorough physical examination. The objective is to further understand the patient's specific condition. From there, our team can create an accurate and patient-centered physical therapy treatment plan. 
Here are the basic components of a physical therapy treatment plan: 
Basic Tasks of Physical Therapists 
A qualified physical therapist goes beyond performing hands-on techniques. There are other tasks they need to perform to help their patients successfully recover. These tasks include the following:
Evaluating the patient's condition and ability to function through a physical examination. 

Addressing your concerns 

Creating an individualized and data-driven treatment plan 

Utilizing therapeutic aids and equipment, such as kinesthetic tape and others 

Assisting patients in using rehabilitative equipment 

Educating patients about proper routine to accelerate recovery 
Types of Physical Therapy 
A Tampa physical therapist can specialize in different focus areas, including sports, clinical electrophysiology, pediatrics, geriatrics, neurology, cardiovascular, and much more. Let's now discuss the different types of physical therapy:
Orthopedic Physical Therapy 
Orthopedic physical therapists specialize in treating post-operative joints, arthritis, sports and work accident injuries, and amputations. They are trained to diagnose, manage and treat various musculoskeletal disorders and injuries. Orthopedic PT treatment options usually include the following: 
Joint mobilizations 

Strength training 

Hot and cold packs 

Electrical stimulation 
Common injuries treated by orthopedic therapists include sprains, fractures, tendonitis, and bursitis. 
Geriatric Physical Therapy 
This type of physical therapy focuses on age-related health conditions, such as arthritis, osteoporosis, Alzheimer's disease, hip and joint replacement, balance disorders, and more. Like most PT programs, geriatric physical therapy may also involve neurological and cardiac rehabilitation. 
Neurological Physical Therapy 
Neurological physical therapy treats people who suffer from a neurological disorder or disease, such as ALS, Alzheimer's disease, brain trauma, cerebral palsy, multiple sclerosis, Parkinson's disease, stroke and spine injuries. Some of the common problems of patients with neurological disorders include the following: 
Paralysis 

Vision impairment 

Poor balance 

Restricted mobility




Cardiovascular & Pulmonary Rehabilitation 
This type of therapy focuses on treating patients with cardiopulmonary disorders or those who have undergone cardiac and pulmonary surgery.  The main objective of this rehabilitation program is to boost endurance and improve functional independence. 


Pediatric Physical Therapy 
Pediatric physical therapy is essential to the early detection of health problems among infants, children, and adolescents. A pediatric physical therapist may help younger patients who suffer from injuries, disorders, and diseases affecting the muscles, joints, and bones. 
Benefits of Physical Therapy 
Physical therapy has several benefits. Depending on the treatment plan or the patient's condition, physical therapy benefits may include the following:
Manage pain without relying on drug prescriptions 

Prevent surgery 

Enhanced mobility and body movement

Improved motor skills 

Boost athletic performance 

Improved balance 

Fall prevention 

Recovery from injuries or trauma

Recover from paralysis or stroke 
Final Words 
A comprehensive physical therapy program is vital to your safe and successful recovery. Be sure to choose a reputable physical therapist in Tampa. One way to do this is to check their credentials or ask for references. A qualified physical therapist should explain the treatment options to their patients in detail. He or she should inform you about the pros and cons and what to expect from your program. 

Are you looking for a physical therapist in Tampa? Call us now at (813) 392 2164 to schedule an appointment! We also accept walk-ins with no waiting time!